Cooper-Hewitt Online Collection is a work in progress as Cooper-Hewitt, a museum under renovation until 2014, explores what is possible with a largely undigitized but internationally significant collection, most with scant 'art museum' levels of metadata.
Despite the low level of metadata and imagery, Cooper-Hewitt Online Collections is a novel and useful approach that moves the field forward in new ways by overturning a number of traditional approaches.
Not only have these approaches been enthusiastically embraced by peers (see extended commentary by Suse Cairns and Paul Rowe), they have also resulted in an enormous increase in traffic to the collection (up from <2% of overall traffic to 17% as at Feb 2013).
The site is purposely minimally 'graphic designed' in anticipation of a larger institutional rebranding, and to enable quick roll out of new features.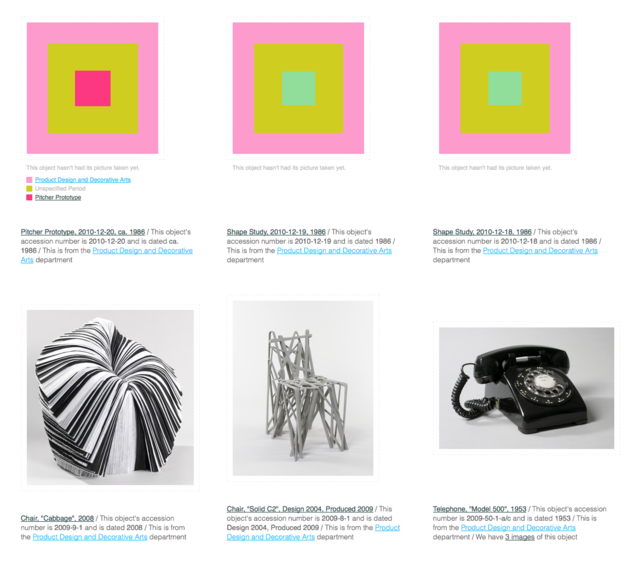 Particular UX features of note include (as of Feb 2013) –
– natural language presentation and 'friendly tone' of metadata even when almost non-existent
– pretty (human readable) URLs and stable identifiers (machine readable forever-ish)
– navigation by color
– navigation by people including biographical pages enhanced full Wikipedia integration
– navigation by geography using public and open geographic identifiers (WoE IDs)
– navigation by time
– random object button
– navigation by historical exhibitions including highlighting of objects we can't show because they were loans or for other reasons.
– people concordances ('matches') with other institutions including V&A, MOMA, Powerhouse Museum, Indianapolis Museum of Art, Walker Art Center, Design Museum London, Library of Congress and other references such as Getty Union List of Artist Names, Wikipedia and Virtual International Authority File (VIAF). We also have 'discordances' as homework lists for Wikipedians.
– experimental 'Albers Boxes' mode for undigitized objects and a broader attempt to disambiguate between the different reasons for images not being available.
– Twitter integration (we were the first museum to have Twitter cards!)
– hidden easter eggs . . .
– and a lot more new stuff since we wrote this text
The site also features a suite of developer-oriented features –
– a public REST API with lots of API functions including 'getEpitaph'
– oEmbed for objects and individual images
– support for machine tags including 3D models in Thingiverse and Sketchup, and 2D images in Flickr and Instagram
– Facebook Opengraph integration
– Google Schema.org support
Most importantly the API has been used – Frankie Roberto built a one day working prototype, automated Tumblrs, Californian hacks, and of course we eat our own dogfood.
The metadata is open licensed under Creative Commons Zero (CC0) and hosted on Github.
Whenever possible the core tools to build the site have also been open-sourced for use by other institutions.
More broadly the site –
– puts the museum properly 'on the Network' and was built in-house (with no external expenditure) as a means to help 'instituionalize the Network'
– asserts the value of even incomplete object records in the face of falling public funding for digitization and culture in general
– communicates to the public that the museum is human and fallible, just like them
– we are being forced to accept the fact that our collections are becoming "alive". Or at least they are assuming the plausible illusion of being alive.
– is aimed at both scholars and casual visitors, and increasingly machines and robots that inhabit the web to make meaning (good) and nastier spam (bad).
– embraces the value of humour (yes, with a U)
– oh, and, we have a Roomba and an awesome 404 page.